Welcome to the Coatesville Half Marathon. The peaceful rural village of Coatesville, on the fringe of New Zealand's largest city, is a tranquil oasis away from the hustle and bustle of Auckland. Only 20 minutes north of the Harbour Bridge, you can enjoy the very best of New Zealand's rural scenery on a traffic free course that offers stunning views all the way back to Sky Tower.
Event distances go from the superb, single lap, Half Marathon all the way down to a 2km kids' dash, so there's an option to suit everyone and no-one gets left out. All courses feature beautiful rural scenery on closed roads.
We take our finisher medals seriously
The team at Running Events take the task of creating the best finisher medals in New Zealand very seriously. We want every single person who crosses the finish line and smashes their fitness goals to take home a beautiful moment of a great day out and an awesome goal acheived. If you don't believe us, take a look at last year.
The Coatesville Half Marathon is Race Three of the Shoe Science Auckland Half Marathon Series, a season-long challenge featuring five awesome events at five stunning locations. Accumulate points in the Half Marathon or Classic Series leading up to our season finale in April.

Wear It With Pride: Event T-Shirt - $39
How do you know someone at the party has run a half-marathon? Because they'll be wearing one of our superb Coatesville Half Marathon event t-shirts. Featuring a smooth, sweat-wicking polyester weave, a super-comfortable runner's cut and awesome sublimated graphics, these tees are keepers. Order yours with your entry ticket or - if you forgot - add it on now. But hurry, numbers are strictly limited and when they're gone, they're gone!
Sign up now and make your next best day in the country a run to remeber!
Making
Magic
Memories
Since 2010
COATESVILLE HALF MARATHON
By The Numbers
Summer in the Country and the running is fine ...
RACE DAY - 11 FEBRUARY 2024
COATESVILLE HALF MARATHON TICKETS
Four To Choose From!
Important! Please familiarise yourself with our T&Cs (see below) prior to registering.

When entering one of our events, you will be required to accept our Waiver, which includes vitally important information we do not want you to miss. Above all else, you must acknowledge that your registration is non-refundable and cannot be deferred to a later edition of this event or transferred to another event (read our Refunds & Deferrals Statement). To be fair and equitable to all - we will not deviate from this position under any circumstances. You will also be acknowledging our Participation & Competition Rules including the important stipulation that - in all disputes - the Race Director's decision shall be final.
References:
Age restrictions are calculated using the participant's age on race day.
Late Registrations (those made from Monday of race week) will receive a generic race number (but you can still fire up the sharpie and get doodling!).
Please also note:
All amounts are in NZD and inclusive of GST. You will be directed to our secure online payment partner, Windcave, to complete your payment. All payments over $100 are eligible to use our "FlexiREV" facility to split your payment into 4 fortnightly installments (5% service fee applies).
The Coatesville Half Marathon course combines the 8km "classic" loop with a 13km out-and-back section along Ridge Road. The entire course is closed to traffic making for a true (and very rare) running experience – the Coatesville Half Marathon is a road race, not a footpath fun run. The course has rolling hills – including our very own "Heartbreak Hill" as you run past Dotcom Mansion, flat sections and a long downhill run into the finish.
Important! Although it does not carry a current AIMS Certificate, the half marathon course has been measured by an AIMS approved course measurer.
START: Mahoenui Valley Rd
FINISH: Coatesville Reserve
The 8k Classic course has been a staple of local running for many years and was the course used for the original "Coatesville Fun Run" for almost twenty years from the late 80s. The official classic 8k differs only from the traditional "block run" with the addition of a short out-and-back section in Donaldson Drive to make the course an accurate 8k (what US and UK runners would refer to as a "five miler").
Important! Although it does not carry a current AIMS Certificate, the 8k course has been measured by an AIMS approved course measurer.
START: Mahoenui Valley Rd
FINISH: Coatesville Reserve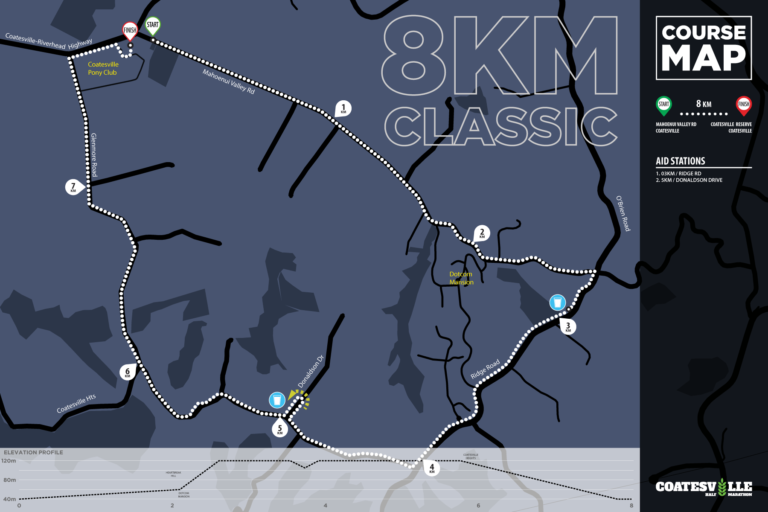 So you always wanted to take on the Coatesville Half Marathon but Heartbreak Hill put you off? Now you have no excuse! The course for the 4k is pretty much flat with a blast up closed Mahoenui Valley Rd to Dotcom Mansion, turn around and burn all the way back to the finish line!

START: Mahoenui Valley Rd
FINISH: Coatesville Reserve
Kids, start your engines for a two-lap, 2km blast! Kids start under the same big arch as the adults and follow a simple 1km out-and-back route along Mahoenui Valley Road before turning into the reserve for the glorious sprint down the finish line! Wear that finisher medal to school on Monday ... you earned it!
START: Mahoenui Valley Rd
FINISH: Coatesville Reserve
RACE DAY - 11 FEBRUARY 2024
Past Events
The Coatesville Half Marathon (formerly the Coatesville Classic) is the original Running Events' running event.
Event Recaps
Check out photo galleries, videos, medal designs from previous events.